Wednesday, July 07, 2010 7:00 AM Rob Kinnon
"This time, we really should try that place." I remarked to Rob as we puttered by in our rented golf cart "It looks super cute." I've lost count of how many times, I've made that same comment in the almost two years since Mango Cafe opened its doors mid-island on the Caribbean side of Isla Mujeres. The restaurant is just down the road from our favorite hotel, Casa IxChel, yet somehow we have never managed a visit. Breakfast on the island, in the opinion of our children, must be at either Jax, where they can entertain themselves with "the ring game", or Manana, where they like to peruse the selection of used books for sale. In strict compliance with their wishes, thus far, we have never varied from this routine. On this latest trip, however, we were blissfully unfettered by the demands of our children and free to dine where we pleased, so we decided to stop in for a late breakfast.
Mango Cafe is in a pretty building occupying a corner in the colonia Meteorologico, just across from the Iglesia Guadalupe. The area is well out of the tourist zone in el Centro, but visitors to the island routinely pass through on their way back and forth from picturesque Punta Sur. Cheerfully landscaped and decorated with colorful Mexican tiles, the exterior is tidy and welcoming. A decorative plywood cactus appliqued to the outside of the building, doubles as a bulletin board, posting the many positive reviews and accolades collected by the restaurant, its cuisine and its charming owners. The interior is warm and inviting with sturdy handcrafted wooden furniture painted in varying shades of pastels and decorated with traditional paper flowers and "pica papel", cowboy boots and hand lettered chalkboard menus detailing the daily offerings. In a corner by the kitchen, a small area acts as a gift shop featuring books by local authors and a selection of unique items made on the island.

Co-owner Polo was on hand to greet us this morning and quickly point us in the direction of the serve-yourself coffee station. Bottomless cups of fresh brewed coffee were just the way to get us going and ready to dig in to breakfast. The restaurant is currently open from 8:30am to 2pm, offering a creative selection of menu items, perfect for breakfast, brunch or an early lunch. I would categorize the cuisine as a fusion of Mexican, Jamaican and Caribbean. Each dish has been crafted to show the diverse culinary influences and interests of Chef Owner Lori Drumm. A native of the United States, most recently Madison Wisconsin, Lori and her husband Polo moved to Isla Mujeres and opened the restaurant in January 2009. Since then, they have achieved a rabid following of tourists and island residents alike, all coming back time and time again to enjoy the fresh seasonal ingredients and the unique combination of flavors in the signature dishes.
On our first visit, Rob and I and our friend/photographer Kat Carroll sampled a variety of items from the menu. First up, a plate of blue corm pancakes served with candied almonds, tamarind maple syrup and a dusting of powdered sugar. We devoured this in no time, sopping up every last drip of the delicious tangy syrup. Next up, Kat ordered the enormous panko crusted poblano chile stuffed with scrambled eggs, bacon, chaya and cheese, served with a drizzle of fresh crema and a side of sweet and sour chipotle salsa and a healthy helping of skillet potatoes. Rob, after much debate, finally settled on the house made chicken chipotle empanadas, light and flaky and filled with sweet corn, potato, poblano pepper, red onion and pepper jack cheese with chipotle crema. These were also served with chipotle salsa and potatoes, which Rob embellished with Lori's now famous curried hollandaise sauce. Delish! While the Eggs Benedict with the aforementioned curried hollandaise was really calling my name, I went for the West Indies Chicken tacos with sweet Jamaican slaw and a coconut peanut dipping sauce. All of the seasonings were so carefully balanced, always playing sweet off of spicy. It was obvious that great care and love had been put into each and every component of each dish. The only disappointment...not one of us had a camera on hand to take pictures of these culinary works of art. Fortunately, we noted a sandwich board outside announcing a special 4th of July BBQ, so we made plans to return the following day.

The next day, Rob and I returned to take in the special holiday BBQ. On the menu for the day: BBQ chicken with homemade mango glaze served up with three chile potato salad, Caribbean coleslaw and tamarind baked beans. The bottomless coffee mug, replaced with a never ending supply of sweet tea, the perfect accompaniment to our meal. While neither Rob nor I are a fan of white meat, these chicken breasts were cooked to perfection, juicy and tender and not at all dry. The mango sauce was tangy and sweet and a clever alternative to traditional barbeque. All of the side dishes were tasty, giving us a reminder of July 4th cookouts back in the northeast with a clever island twist. We finished up our feast by splitting an order of vanilla bean ice cream, drizzled with caramel and candied almond slivers, so good we fought over the last bite!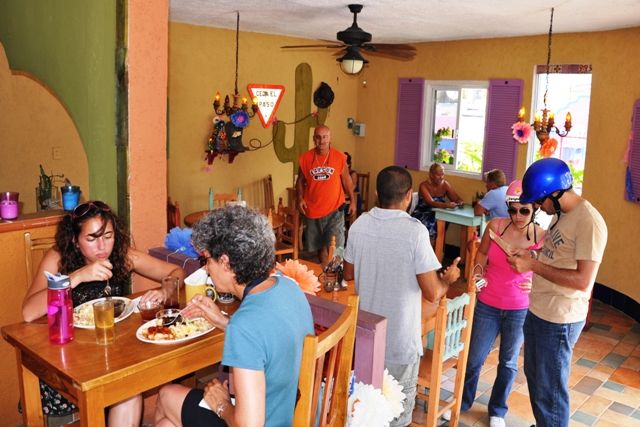 It was such a pleasure to finally meet Lori and Polo and finally try the food we have been hearing so much about. The success of Mango Cafe has allowed them to expand their offerings with a location across the street, The Blue Iguana, serving homemade baked goods and deli sandwiches during the high season. By popular demand, they will also be extending their hours to offer dinner and we are looking forward to seeing how the menu develops. They will also be adding a full compliment of tasty cocktails to their repertoire. Rumor has it we can look forward to Watermelon Mojitos, Kiwi Margaritas and more!! Kids big and small can still enjoy their thirst quenching "aguas de casa".

Food like this can only come from people with real passion and respect for the ingredients. Not only are Lori and Polo putting out world class cuisine on this tiny island, they are also the consummate hosts, greeting each guest, with a big smile and a genuine excitement that is rare in an industry that so often breeds big egos. We found that the only things that are "big" at Mango Cafe are the flavors and the hearts of its owners. Bravo!