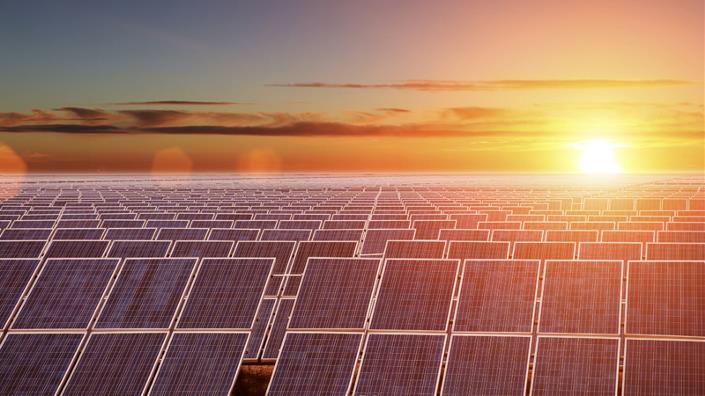 Solar power
PE's list of the world's largest photovoltaic power stations

1. Solar Star Projects, California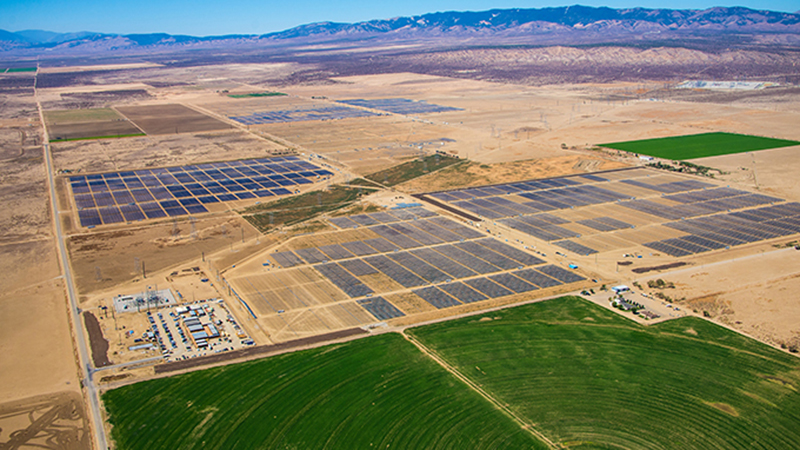 Currently the largest solar power project in the world, two co-located plants in the Kern and Los Angeles counties in California make up the 579MW capacity Solar Star project. The plants generate enough electricity to power around 255,000 homes. Construction of the farms started in early 2013 and was completed in June 2015. The site is spread over 13 sq km of land near Rosamond, California and it uses 1.7 million Sun Power made monocrystalline silicon modules on single-axis trackers.
Solar Star is estimated to displace 570,000 tonnes of CO2 emissions annually, which is the equivalent of removing 108,000 cars from the road every year. The project uses Oasis Power Plant technology developed by Sun Power, which positions the panels to track the sun during daylight hours, to optimise energy capture by up to 25%. BHE Renewables owns the the farms and sells the electricity to Southern California Edison under two long-term power purchase agreement.
2. Desert Sunlight Solar Farm, California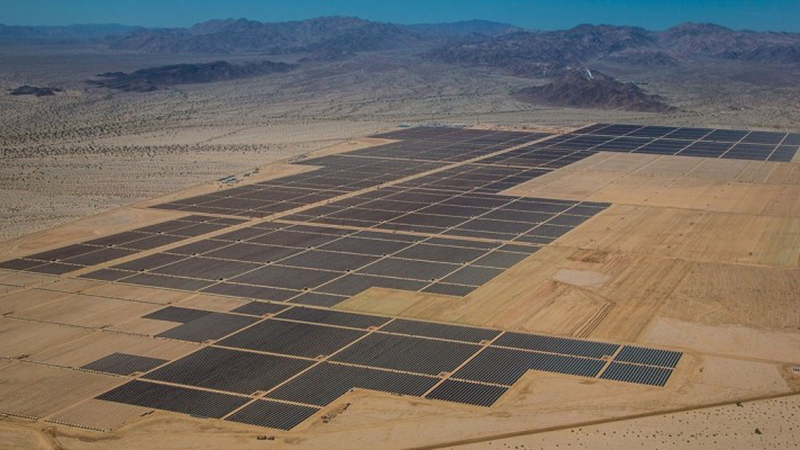 Operating a 550MW capacity, Desert Sunlight Solar Farm is located in the Riverside County in California and tied in second place with Topaz Solar Farm, which is in the Carrizo Plain region in the state. Ownership is shared between NextEra Energy Resources, GE Energy Financial Services, and Sumitomo Corporation of America. Energy produced at the farm serves 160,000 homes in the county, and avoids around 300,000 tonnes of CO2 per year, which is equal to taking around 60,000 cars off the road.
The project was constructed and is operated by First Solar, which also supplied the 8 million plus cadmium telluride solar modules that make up the farm. The site is built over 15.4sq km of land managed by the Federal Bureau of Land Management. Construction began in September 2011, with Phase I delivering 300MW capacity that is purchased by Pacific Gas and Electric Company, while Phase II, completed in 2015, has a capacity of 250MW, which is sold to Southern California Edison.

3. Topaz Solar Farms, California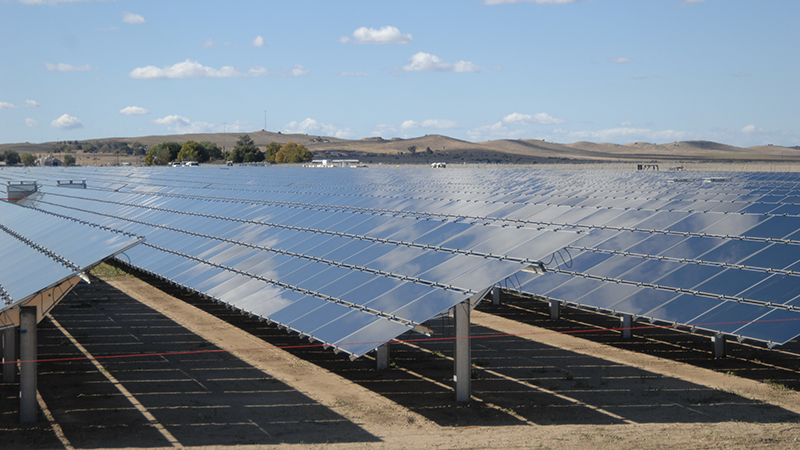 Topaz Solar Farms is a 550MW plant in San Luis Obispo County, California, that powers approximately 160,000 homes in the region. The .5 billion project was developed by First Solar but it was acquired by BHE Renewables in January 2012. Energy for the farm displaces approximately 377,000 tonnes of CO2 every year, equivalent to removing 73,000 cars from the road. The project consists of nine million solar panels, which are mounted at a 25º angle for optimal sun exposure.
First Solar began construction of the plant in November 2011 and it was completed in 2014, covering 24.6sq km of land. Electricity from the project is sold to Pacific Gas and Electric Company under a 25-year power purchase agreement. The site is located next to the operational 230kV Morro Bay-to-Midway transmission line, which provides access to transmission capacity.
4. Longyangxia Dam Solar Park, Qinghai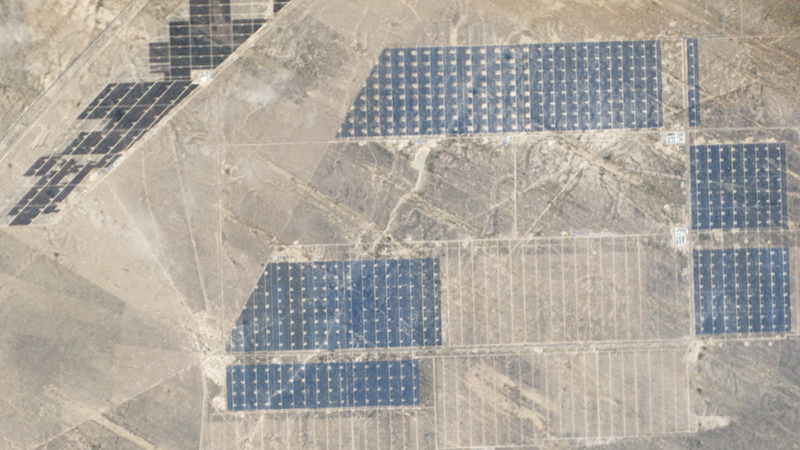 Longyangxia Dam Solar Park park is located at the Longyangxia Dam hydropower station on the Yellow River in Gonghe County in China's Qinghai province. The dam was commissioned in 1992. The solar project covers 9.16sq km of land and forms part of the one of the largest hybrid hydro-solar PV power stations in the world. Construction by China Power Investment began in March 2013 and was completed within nine months. In December 2013, the farm went online, with a 320MW capacity.
Construction of phase II commenced in August 2014 and was completed in late 2015, raising the capacity to 530 MW. The addition of the solar park increased the hydropower plant's 1,280MW capacity. In phase II nine PV power generating segments will connect to the 330kV booster station that was built during Phase I. The plant is estimated to displace 795,000 tonnes of CO2 annually.
5. Golmud Solar park, Qinghai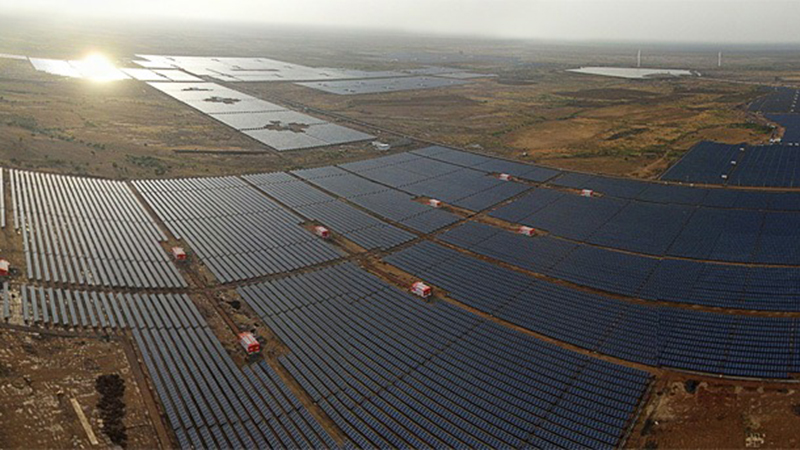 Golmud Solar park is a 500MW photovoltaic park located in the Qinghai Province, China. The site was built in 2009 and commissioned in October 2011. Phase-IV, which is currently under construction will add another 60MW capacity to the site when completed.
6. Copper Mountain Solar Facility, Nevada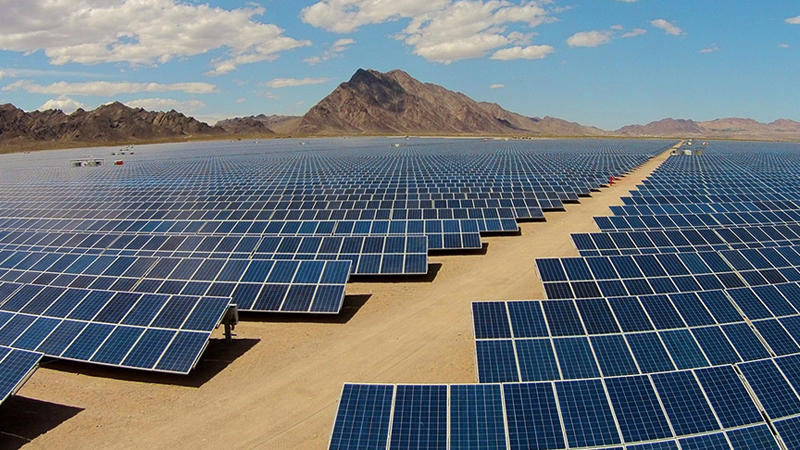 Located in Boulder City, Nevada, the Copper Mountain Solar Facility provides 458 MW of electricity serving around 18,000 homes annually. The farm uses nearly one million PV solar panels and covers 1.8sq km of land. The project is owned by Sempra US Gas and Power.
Phase I of the site was completed in December 2010, with the power generated sold to Pacific Gas and Electric. Pacific Gas and Electric also purchased electricity generated in phase II, while phase III was completed in early 2015 with the energy sold to Southern California Public Power Authority. The current capacity is set to increase to 552MW by the end of 2016, when the 94MW phase IV is completed.
7. Charanka Solar Park, Gujurat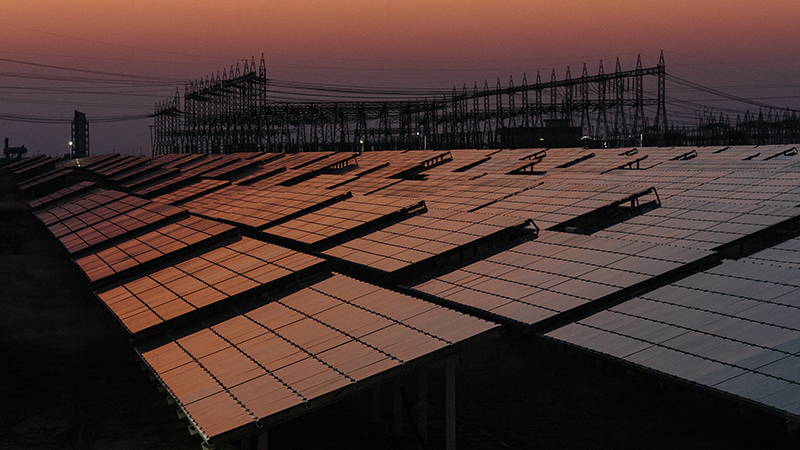 Charanka Solar Park is a 345MW installation that forms part of the 600 MW Gujarat Solar Park in the North of India. The whole project is a collaboration between 21 companies. The farm is built within the 20.2sq km of desert land in the region. The park at Charanka, spread across 5,000 acres, has 500 MW of generation capacity of both solar and wind energy.
8. Cestas Solar Farm, Bordeaux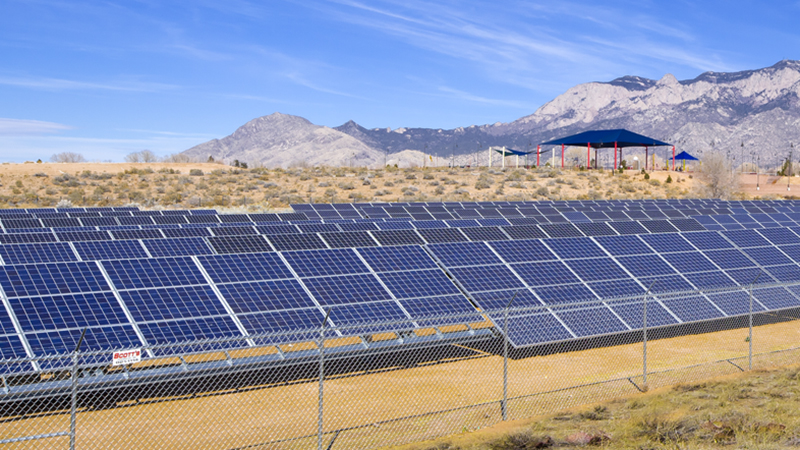 Cestas Solar Farm in Bordeaux, France, is Europe's largest solar PV plant with a 300 MW capacity. The park, developed by Neoen, cost €360 million to build and it provides power for 300,000 homes.
Covering 2.5sq km, the project was constructed by Eiffage, Schneider Electric and Krinner and went online in October 2015. Solar modules were supplied Chinese manufacturers, Trina Solar, Yingli Solar and Canadian Solar. The park was connected to France's high voltage network Réseau de transport d'électricité (RTE), which provides electricity across the country, in September 2015.

9. Agua Caliente Solar, Arizona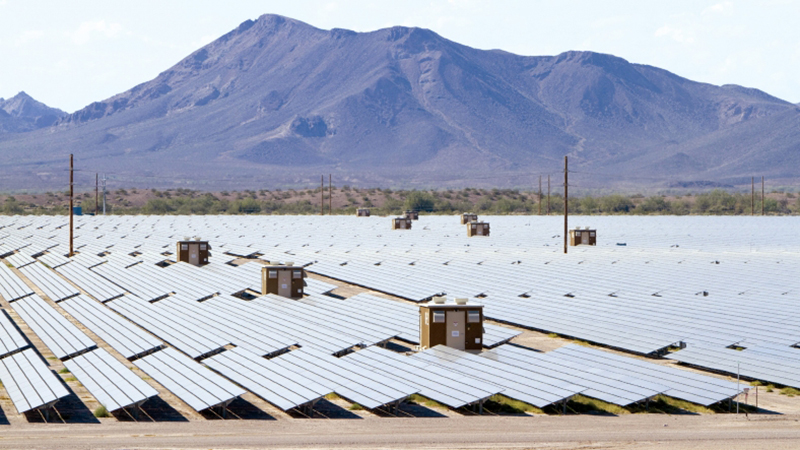 The Agua Caliente Solar Project is a 290MW PV power plant located in the city of Yuma, Arizona. The park, which was designed, constructed and is operated by First Solar is jointly owned by NRG Energy and MidAmerican Solar. It was completed in April 2014 and powers 100,000 homes. The plant displaces 220,000 tonnes of CO2 annually, which is equal to equal to taking 40,000 cars off the road.
Agua Caliente can be controlled remotely from First Solar's operation centre. It uses also uses the company's grid integration and plant control system, which helps to maintain grid stability, as well as thin-film technology based CdTe PV panels from the developer. The project was awarded a 7 million loan from the Department of Energy.
10. California Valley Solar Ranch (CVSR) in San Luis Obispo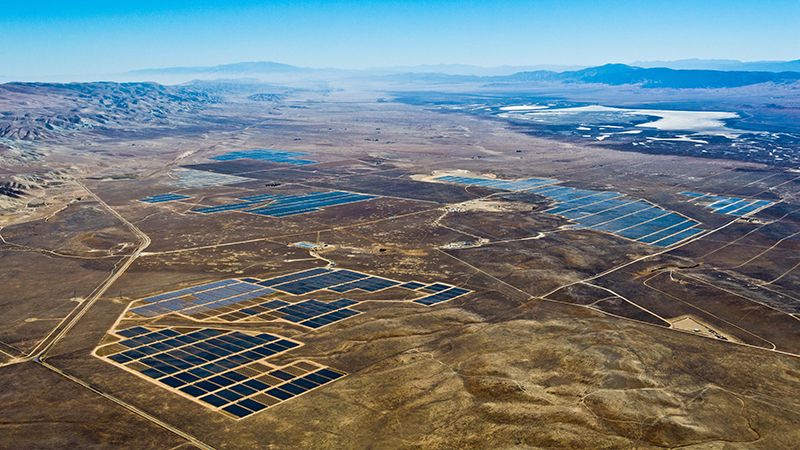 California Valley Solar Ranch (CVSR) in San Luis Obispo County, California, has a 250MW capacity. Constructed by Sun Power, the plant was completed in October 2013 and is owned by NRG Energy and NRG Yield. CVSR generates enough power to serve approximately 100,000 homes in the county, and displaces 336,000 tonnes of greenhouse gas emissions.
The farm uses Sun Power's Oasis Power Plant Technology, which positions the panels to track the sun during daylight hours. Energy produced by the plant is sold to Pacific Gas and Electric.
ШОКИРУЮЩИЕ НОВОСТИ